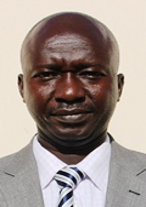 Mr. Lamin M. F. Jobarteh has over 25 years experience in the field of development. He is a results-driven professional with a highly successful background in designing development programmes and project proposals, monitoring and evaluation systems for the achievement of set goals and objectives through the creation and execution of successful participatory approaches and strategies. He holds an MSc in International Development and NGO Management from the University of East London, UK and a number of professional certificates and postgraduate diplomas in Development Project Management, Management of Microfinance Operations, Regulation and Practical Operations of Microfinance Institutions, Management of Small Businesses and Industries, Managing, Controlling and Evaluation of Donor Funded Projects, Strategic and Operational Planning of Public Programs And Projects and Monitoring and Evaluation.
Before joining SDF, Lamin served as the Monitoring and Evaluation Officer for the EC funded Support to Decentralized Rural Development Project in The Gambia. He also served as the Programme Management Information Systems Officer for Actionaid International (The Gambia) responsible for coordinating research, monitoring and evaluation of development programmes in The Gambia, Southern Senegal and Guinea Bissau.
Lamin has served in various positions in SDF including Regional Fund Officer, Monitoring and Evaluation Specialist and Acting Microfinance Officer before becoming the Director of Operations. As Director of Operations, Lamin is responsible for directing, supervising and controlling all field operations. His key function is the day-to-day management of the Operational staff both at HQ and at the Region Offices to ensure that the portfolio quality is acceptable. In addition he sits on the Credit Risk Committee that approves financing.